Easy Weeknight Crockpot Meals
These easy and family friendly slow cooker recipes are exactly what your busy weeknight need! Easy "dump and go" recipes with easy ingredients, tons of flavor, and exactly what you need in an easy dinner!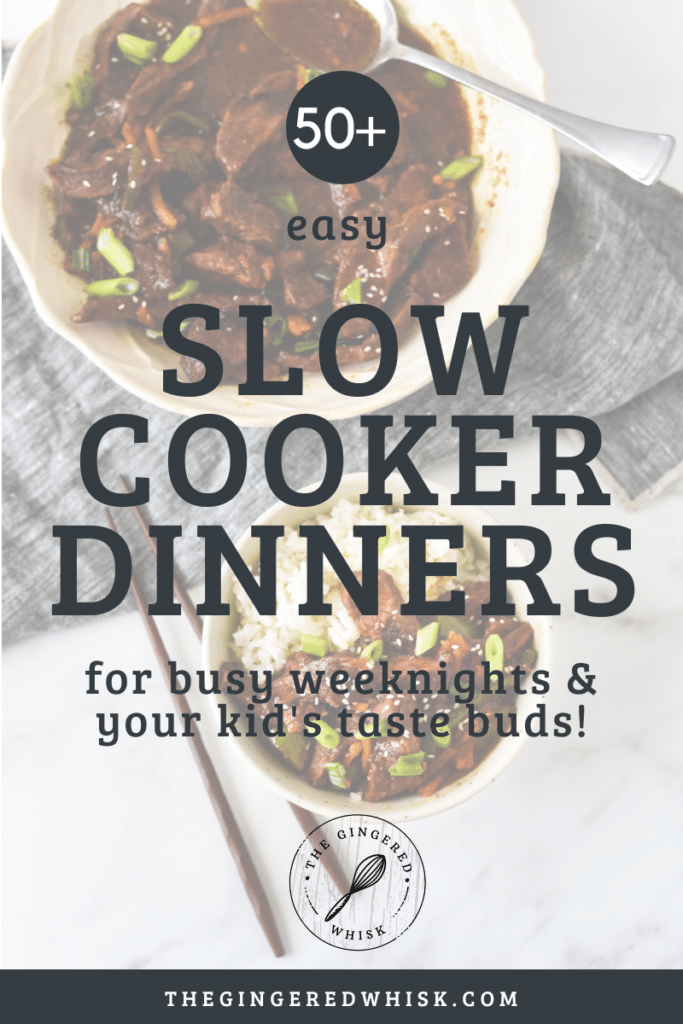 Aren't slow cooker meals the best invention ever?! I love how super useful they are for making dinner so easy!
*This post contains affiliate links.*
What I don't like about them is that sometimes recipes for them are so labor intensive it doesn't really seem to help at all, and really isn't worth it. Have you ever made a slow cooker lasagna? I was under the impression that it would be so super awesome, but I think it took me just as long as normal – except at 6am. UGH.
To me, a crock pot meal are for those nights when you have NO time to make a meal, but you still need to eat something (and something that doesn't come out of a drive-thru lane).
If you are in the market for a new crock pot, my favorite is this 6 quart Crock Pot – and yes, I have the red one! Its not super fancy, but I love it in its simplicity. All you really need are high, low, and off. This does come with an extra warm feature, which is nice. It also has a locking lid, which is totally necessary if you plan on traveling to potlucks and parties with your slow cooker And this particular model also comes with a mini-dip warmer, too! I love that the stone basin and the lid can both go in the dishwasher. I highly recommend this one if you are shopping for a new one!
Why you should use slow cooker meals:
Incorporating slow cooker meals into your meal plan is a surefire way to simplify the dinner preparation process. Slow cookers offer the convenience of 'set it and forget it' cooking, allowing you to save time and effort in the kitchen.
By prepping your ingredients in the morning or even the night before, you can simply toss them into the slow cooker, select your desired cooking time, and return to a delicious, ready-to-serve meal in the evening.
This not only makes the cooking process easy, but also infuses flavors more deeply into your dishes, resulting in tender, mouthwatering entrees without the need for constant monitoring or hands-on cooking.
Slow cooker meals are a game-changer for busy families, enabling you to enjoy delicious, homemade dinners with minimal stress and maximum convenience.
How to add slow cooker meals to your meal plan:
Slow cooker meals are great for busy days when you need to not spend much time cooking at all.
Usually crock pot meals require a few minutes in the morning to add all the ingredients in, and then a few minutes before you eat. These are great for nights when you need to pack a meal to go, too! They also usually make enough leftovers for lunch the next day, or where you can re-use the meat and turn it into something else.
Schedule these recipes on busy nights when you need to walk in the door and have dinner ready for you.
How to meal prep slow cooker recipes
If you need to simplify a crock pot recipe even more, a little bit of meal prep the night before will help the morning go even quicker. Here are some ideas for how you can meal prep a recipe.
Gather the ingredients that you can and place them next to the slow cooker.
Measure any spices, condiments, etc that you can and have them ready to go.
Pre-chop and veggies and store them in an airtight container in the fridge until morning.
Check the recipe to see if there are any last minute garnishes or ingredients you can prep ahead.
Need more recipe inspiration? Try these other roundups:
30 Meals in 30 Minutes

– These easy dinner recipes for families are perfect for busy weeknights! Over 30 weeknight one pan and 30 minute recipes your family will love!

Best Ground Meat Recipes

– These weeknight and kid-friendly recipes feature ground beef, ground pork, ground chicken and ground lamb so you will always hav a great idea of what to do for dinner!

Cast Iron Skillet Recipes – These easy one pan recipes are perfect for your cast iron skillet! Perfect for busy families who crave flavor and ease, these dinners deliver!
Slow cooker recipes for busy families
Ok, so on to the recipes! Below you will find over 60 awesome recipes that take almost no work at all – these are for the days when all you have time to do is dump stuff in the slow cooker and ignore it until its time to dump it on a plate – or dump, heat, and eat.
No fussiness, no funky ingredients. Just pure EASY deliciousness the whole family can enjoy!
You are going to want to save this and share it with all your friends!
Easy Slow Cooker Chicken Recipes
These easy crock pot chicken recipes are perfect easy family dinners! From stews and soups to thighs and shredded meat, this list has something for everyone to love!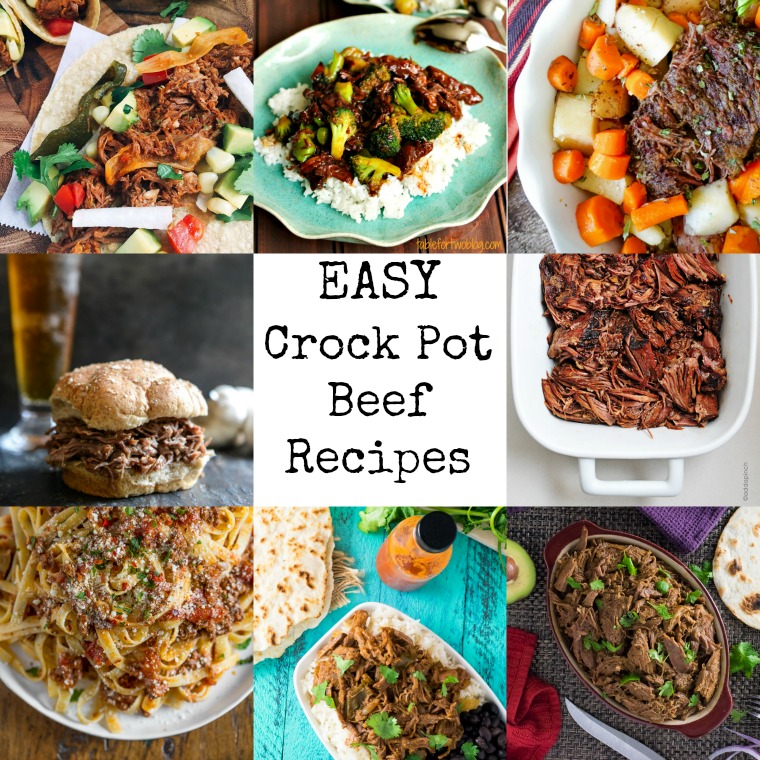 Slow Cooker Beef Recipes
These easy crock pot beef recipes will have your family begging for more! Easy family dinner recipes that you can just "dump and go" for ultra busy nights!
Crock Pot Pork Recipes
These family friendly slow cooker pork recipes are perfectly delicious and have no funky ingredients. Make your weeknight dinner easy with these fabulous meals.
Slow Cooker Vegetarian Recipes
These easy family friendly vegetarian meals are perfectly budget friendly for your Meatless Monday Meals.
So, there you have it! The most comprehensive list of dump, heat and eat meals you could ever want – all with barely any prep work, real ingredients, and awesome flavor the whole family will love!
Love and links are always appreciated! If you'd like to share this post, please link to this post directly for the recipe, please do not copy and paste or screenshot. Thanks so much for supporting me! xoxo