This healthy chicken cordon bleu recipe is an easy and delicious weeknight meal that is ready in 30 minutes! This family favorite baked chicken recipe is stuffed with prosciutto and mozzarella cheese, coated in breadcrumbs and baked to perfection.

Don't let your kid-friendly chicken dinners get boring! Try these fun and easy recipes your family will love:
Slow Cooker Chocolate Mole Chicken Tacos - This slow cooker chocolate mole chicken tacos recipe is perfect weeknight recipe with tons of flavor but without a lot of work! Your whole family will love this easy weeknight meal featuring dark chocolate in a unique savory chocolate recipe!
Panko Crusted Chicken Fingers with Creole Dipping Sauce - These Panko Crusted Baked Chicken Tenders are a crispy and a delicious weeknight meal. Served with an addictive Creole Dipping Sauce, these tenders will soon be your family's new favorite!
Grilled Greek Chicken Kebabs - This easy grilled greek chicken recipe is perfect for busy weeknights! Just a few simple ingredients and 30 minutes and you have a meal your family will love!
This easy baked healthy chicken cordon bleu is a great weeknight meal - the moist and tender chicken is full of great flavor. Serve with Italian Roasted Whole Carrots for a complete meal.
You know that saying, "Like a bull in a china shop"? Well I would like to offer up a much more fitting alternative. "Like a toddler in an antique store". Yeah, I know, doesn't sound like a good idea at all, does it? And guess what? It wasn't.
Now before you get too worried, I will assure you that not one single item was broken or misplaced. The trip did, however, end up in tears. And heartburn.
Poor Ladybug just wanted to touch everything. And for the first part of the trip she was great, but then she was tired of listening to Mama tell her to look with her eyes and just ran from item to item.
Hence the heartburn as I just chased her and didn't actually see a single thing.
I did happen to find an awesome dress, though. It was super cute, only $20, and it fit like a glove. It was meant to be. And so I bought it.
And now to convince Joel to put on his 3 piece suit and take me for a fancy date!
Because after that shopping trip I need to drown my anxiety in good food that someone else cooks. That's totally normal, right?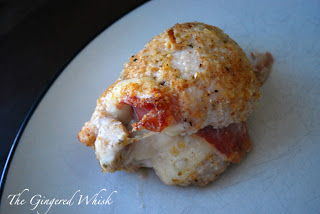 There's nothing I love more than seeing you make my recipes! If you make this Healthy Chicken Cordon Bleu Recipe, don't forget to leave a comment below and rate the recipe!
And if you are on Instagram, tag @thegingeredwhisk and use the hashtag #gingeredwhisk on social media when you make my recipes so that I can share them and maybe even feature you. Follow along to get the latest updates:
And don't forget to subscribe to the email list to get all the extra tips, tricks and bonuses!
Yield: 4 Servings
Chicken Cordon Blue
This easy chicken cordon blue recipe is a great quick and healthy alternative to the traditional recipe.
Ingredients
¼ cup fat free reduced sodium chicken broth
5 TBSP butter, melted
1 large garlic clove, minced
½ cup dry breadcrumbs
1 TBSP parmesan cheese
1 tsp paprika
4 (6-ounce) skinless, boneless chicken breasts
¼ tsp salt
¼ tsp dried oregano
¼ tsp pepper
4 slices prosciutto (about 2 ounces)
¼ cup shredded mozzarella cheese
cooking spray
Instructions
Preheat oven to 350F.
In a small microwave bowl, heat the broth for 15 seconds in the microwave.
Stir the butter and garlic into the warmed broth.
In a medium bowl, combine the breadcrumbs, parmesan and paprika.
Place each chicken breast between 2 sheets of heavy duty plastic wrap and pound each to a ¼″ thickness using a meat mallet or a rolling pin.
Sprinkle both sides of the chicken with the salt, pepper, and oregano.
Top each piece of chicken with 1 slice of prosciutto and 1 TBSP mozzarella.
Roll up each piece of chicken jelly roll fashion (I found it helpful to secure it with a toothpick).
Dip each rolled chicken into the broth mixture and then dredge in the breadcrumbs.
Place rolls, seam side down, into a baking dish coating with cooking spray.
Pour the remaining broth mixture over the chicken.
Bake for 28 minutes or until the juices run clear and the tops are golden.
Enjoy!
Nutrition Information:
Yield:

4
Serving Size:

1
Amount Per Serving:
Calories:

312
Total Fat:

20g
Saturated Fat:

11g
Trans Fat:

1g
Unsaturated Fat:

7g
Cholesterol:

88mg
Sodium:

1239mg
Carbohydrates:

11g
Fiber:

1g
Sugar:

1g
Protein:

21g