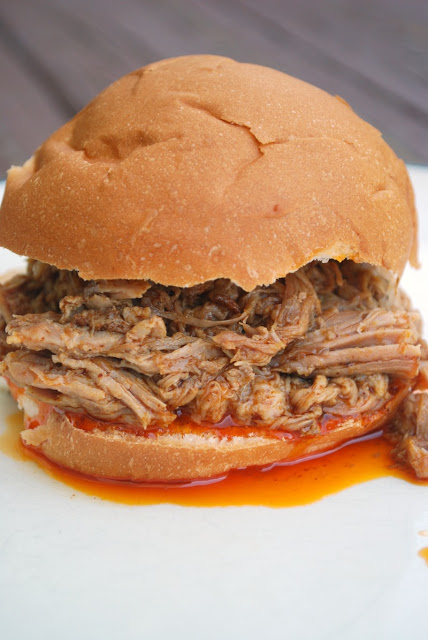 One of my all time favorite summertime meals is pulled pork. I love a good pulled pork sandwich – the juices running down your arm as you try to hold you soaked bun into one piece as you savor every bite.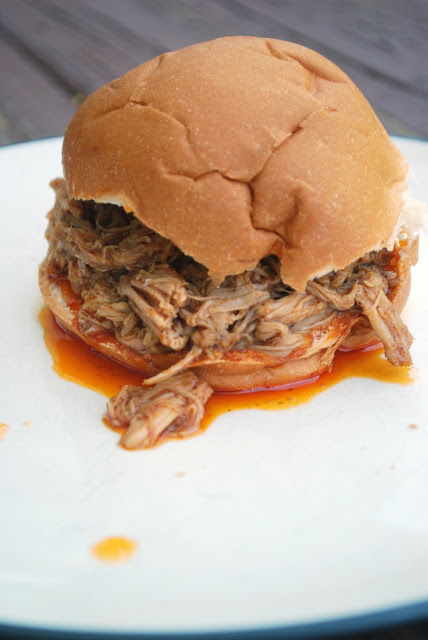 Normally, it is the kind of food I only eat at events like fairs and festivals. I always considered it too time consuming to make it myself – standing by a grill smoking the meat all day, having to watch babysit wood chips, check and recheck the temperature, preparing a sauce.
Luckily for me, and now you, I have this doozey of a recipe. It's made in a slow cooker, so you can have it any day you happen to have electricity (which I hope is every day)!  It is easy enough that my husband enjoys making it even without my supervision! Now that's a great recipe!
Slow Cooker Pulled Pork
Print
Slow Cooker Pulled Pork
Author:

Prep Time:

15 minutes

Cook Time:

8 hours

Total Time:

8 hours 15 minutes

Yield:

8 servings
---
Ingredients
3 lbs pork butt (or shoulder)
1 medium white onion, roughly chopped
2 Tbsp chili powder
1 Tbsp smoked paprika
2 tsp black pepper
1 tsp whole cumin seeds, smashed or crushed in either a mortal and pestle or with a meat mallet.
3 garlic cloves, finely minced
1 tsp cayenne pepper
2 tsp salt
1/4 cup brown sugar
3 Tbsp Worcestershire sauce
1/ cup water
cider vinegar to taste
---
Instructions
Heat 1 tablespoon olive oil in a skillet over medium high heat.
Sear the pork on all sides and transfer to a crock pot.
Turn the heat on the skillet down to medium and add the onion to the residual oil in the pan.
Add the chili powder, smoked paprika, pepper and cumin seeds to the oil and onion. Cook about 3 -5 minutes to allow the spices to bloom.
Add the minced garlic and cook until fragrant, about 30 seconds.
Add the cayenne pepper, brown sugar, worchestershire sauce, salt, and water. Bring to a boil.
Pour the mixture over the meat in the crock pot. Everything EXCEPT the cider vinegar should be in the crock pot now.
Cook on high for one hour, then turn the heat down to low. Cook 6-8 hours, or until the pork is done.
Carefully transfer the meat only to a large bowl and use tongs or two forks to pull the meat apart.
Strain the cooking liquid and discard the mushy onions.
Reduce the liquid by half until it reaches a slightly thicker consistency.
Remove the liquid from the heat and add cider vinegar to taste.
Pour over the meat.
Enjoy!
---
Notes
We like to add a small amount of chipotle chili pepper to the spice mixture to give it a little heat, but be careful how much you add – it gets hot FAST!
I like to add a bit of ketchup and a little bit more brown sugar to the sauce after it has reduced a bit, to thicken it and give it a bit of a sweeter flavor.