This sourdough cracker recipe is quick and easy to make and tastes delicious! Thin and crispy, with tons of flavor!
If you have never made your own crackers before, it is sooo easy, and they end up being so delicious! It really is worth it! We don't often buy crackers in our house (unless they are cheese flavored and shaped like fish) because they get eaten so fast, so when I actually remember to make them I remember how much I love them!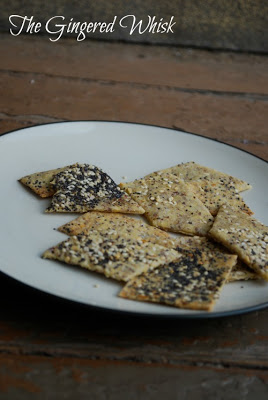 Sourdough Crackers
These sourdough crackers are perfect!
They are super quick and easy to mix together, bake, and then consume!
Ladybug loved to help mix these up, and this was a perfect recipe to make with a
toddler
(I mean preschooler!!), it was easy to measure and mix everything. She even made some special ones that she pressed some peanuts into, while she told me a story of how she and Daddy used to make peanut crackers together when she was a tiny baby, and how delicious they were. Um, right. Haha, I love this imagination!
Sourdough Everything Crackers
This sourdough cracker recipe is quick and easy to make and tastes delicious! Thin and crispy, with tons of flavor!
Ingredients
Sourdough Crackers:
1 cup whole wheat pastry flour
1/2 cup cornmeal
1/2 cup ground flax seed
1/2 tsp salt
2/3 cup sourdough starter
1/3 cup water
1/4 cup olive oil
Everything Bagel Topping:
1 TBSP poppy seeds
1 TBSP sesame seeds
1 TBSP dried onion flakes
1 TBSP dried garlic
2 tsp coarse sea salt
Instructions
Preheat the oven to 400F.
In a small bowl mix together the ingredients for the topping and set aside.
In a large bowl whisk together the flour, cornmeal, flax seed and salt.
Mix in the sourdough starter, water, and olive oil until you get a stiff dough.
Knead the dough a few times until you achieve a soft, silky dough. It should only take a few rotations.
Divide the dough in half and flatten each half into a round disc.
Sprinkle your work surface with 1 TBSP of the "everything" topping.
Place a disc of the dough on top of the seeds and roll out the dough until it is quite thin.
Pick the dough up, scatter another TBSP of topping on your work surface and turn the dough over onto it (so the seeded side is now up).
Roll the dough until it is about 1/8" thick or less. The seeds should be firmly embedded into the dough but a few might fall off.
Place the dough onto a pizza stone and use a pizza cutter to cut into squares about 1.5".
Bake for 7-9 minutes (mine took a little longer. You want your crackers to be brown and crispy but not burnt!
Transfer the crackers to a wire rack to cool.
Enjoy!
Nutrition Information:
Yield:

12
Serving Size:

1
Amount Per Serving:
Calories:

231
Total Fat:

9g
Saturated Fat:

2g
Trans Fat:

0g
Unsaturated Fat:

7g
Cholesterol:

4mg
Sodium:

513mg
Carbohydrates:

33g
Fiber:

5g
Sugar:

1g
Protein:

6g