Soft and chewy with a slight sourdough tang, these sourdough pretzels have great texture and are fun to make.
Today is kind of a special day. Today marks the THIRD anniversary of something kind of special to me - Sourdough Surprises! I cannot believe it has been a whole three years since Shelley and I started this little adventure. To all the people who have joined us - thank you so much for baking along with us! You have helped this to thrive and grow, and we have had so much fun with you!
This month we chose to do a "Choose Your Own Adventure" theme - basically, you could make anything that we have previously made. So if there was something you loved, something you missed, or something you wanted to retry, you could pick to do that! I had a hard time deciding what I wanted to make, but decided that I would really like to try my hand at pretzels again. The first time they ended up being really chewing and hard, but delicious! I used the exact same recipe as I did three years ago, but I made some changes. And this time, they turned out soo much better! They were soft and chewy, had great texture and a tiny sourdough tang.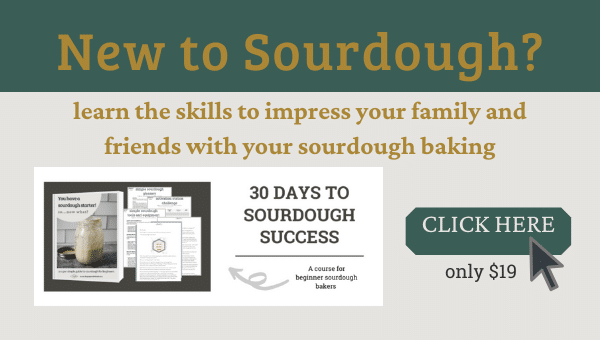 Yield: 12 Servings
Easy Baked Sourdough Pretzels
These baked sourdough pretzels are soft and chewy!
Total Time
1 hour
30 minutes
Ingredients
Sourdough Pretzel Dough:
1 cup sourdough starter, straight from the fridge
¾ cup whole milk
2 tsp instant yeast
3 cups flour
1 TBSP sugar
1 TBSP butter
1 ½ tsp salt
Topping:
1 TBSP sugar
2 TBSP warm water
coarse salt
melted butter
Instructions
To Make the Dough:
In the bowl of an electric mixer, combine all the ingredients.
Knead the dough until it is smooth and slightly sticky.
Shape the dough into a bowl and place in a lightly greased bowl.
Cover the bowl and let the dough rest for 45 minutes.
To Shape the Pretzels:
Preheat the oven to 350F.
Turn the dough out onto a lightly greased surface (or silicone rolling mat) and fold in half a few times to deflate.
Shape the dough into a rectangle and cut into 12 pieces.
Cover the dough with plastic wrap so it doesn't dry out while you work.
Working with one piece of dough at a time, roll the dough into an 18" rope.
Loop the rope into pretzels (I found it was easiest to do this upside down).
Place the formed pretzels onto two baking sheets lined with parchment paper.
In a small bowl whisk together the sugar and lukewarm water and brush over the pretzels.
Sprinkle with the coarse salt.
To Bake the Pretzels:
Bake for 25-30 minutes, until lightly golden brown.
Remove from the oven and brush with melted butter.
Remove from the baking sheet and place on a wire rack to cool.
Enjoy!
Nutrition Information:
Yield:

12
Serving Size:

1
Amount Per Serving:
Calories:

186
Total Fat:

3g
Saturated Fat:

2g
Trans Fat:

0g
Unsaturated Fat:

1g
Cholesterol:

7mg
Sodium:

363mg
Carbohydrates:

35g
Fiber:

2g
Sugar:

3g
Protein:

5g